Our trained teachers are dedicated to providing quality education to all the students of our school. We rejoice in the opportunity God has provided to us to grow our family and His through our participation in the Racine Parental Choice program since 2012. Together our administrator, faculty and support staff is eager to respond to God's mission. Take a look at the staff in Concordia Lutheran School in Sturtevant, WI.

Rev. Gerhard Grabenhofer, Pastor (Faith Lutheran Church)
Beloved in the Lord!
As the pastor at Faith Lutheran Church, it is with tremendous joy that I serve the children of Concordia Lutheran School along with a most amazing faculty and staff!
I, myself, am a product of Lutheran schools. My Kindergarten through Eighth Grade education was at St. John's Lutheran School in Lombard, IL. This is the school of the church in which I was baptized and formed in the faith. It was during my years at St. John's that the Lord instilled in me the desire to serve Him as a pastor in His Church. After St. John's, I attended Valley Lutheran High School in St. Charles, IL. I then attended and graduated Concordia University Wisconsin having majored in theological languages. My seminary formation was at our Synod's Concordia Theological Seminary in Ft. Wayne, IN. While at seminary, I served a summer vicarage at St. Paul Lutheran Church in International Falls, MN. My full year of vicarage was spent at Immanuel Lutheran Church in Cleveland, OH—a bilingual German-English parish.
Upon graduation from seminary, I was ordained and installed in my first parish, Immanuel Lutheran Church in Copperas Cove, TX. I served the Lord's people there for five years before receiving and accepting a call to Faith Lutheran Church in Corning, NY where I served for over 20 years before receiving and accepting the call to serve at Faith Lutheran, Sturtevant.
I have also worked on several projects over the years. The first was the translation of a daily devotion from the sermons of C.F.W. Walther, founding father of our Missouri Synod. When my parish in Texas was remodeling and expanding the parish hall, a box of junk was uncovered. In it was Das Walte Gott!, the original book from 1894. Thinking this book was too important and valuable to be left inaccessible to the English reader, I began translation of it. It was published in the summer of 2006 by Concordia Publishing House under the title, God Grant It. Although now out of print, this book can still be found on Amazon and as one of Concordia's "Print on Demand" books.
I also worked as part of the translation team to bring into English, Exodus of the Eight Hundred, by Ingerose Paust. This was published by Concordia University Press, Austin, TX in 2015 and recognized by the Concordia Historical Institute. This popular German historical novel, details with gripping drama and exciting adventure, the emigration of the Lutheran Saxons in 1838 and their arrival and settlement in St. Louis and Perry County in 1839. This is the only current work of historical fiction that places the narrative into the hands of the general reader.
Through all these years the Lord has been working on me and leading me into greater faith and knowledge of Him and His holy word. It is my prayer that I will be an instrument of the Holy Spirit to lead the people of Faith, Sturtevant and the children of Concordia Lutheran School to grow in their faith and love of our gracious Triune God and Savior.
Rev. Jesse Gullion, Pastor (Holy Cross Lutheran Church)
Greetings in the Name of our Lord and Savior Jesus Christ!
My name is Rev. Jesse Gullion. I am the Pastor of both Holy Cross and Christ the King Lutheran Churches here in Racine, WI.
I received a Bachelor of Arts Degree from Concordia University Wisconsin in 2001. I received my Masters of Divinity Degree from Concordia Theological Seminary Ft. Wayne in 2016. I was ordained into the Holy Ministry in 2016.
My wife's name is Fern and we have seven children. I enjoy hiking, fishing, playing sports with my children, reading, and going to the gym.
I assist with Chapel and other Worship Services at Concordia Lutheran School. I am happy to be a part of the Concordia community. I am grateful to the Lord to serve along side such wonderful faculty and staff as together we assist in forming and nurturing children in the grace and knowledge of our Savior Jesus Christ and for fruitful service in the Church and in the world (Prov. 22:6).
Let me know if there is any way I can be of service to you. The Lord bless you!
Mrs. Jeannine Klein, Principal
Concordia Lutheran School exists for the purpose of "Bringing Christ and academic excellence to our students for life and forever." The school will celebrate its 50th anniversary in January of 2020. We give thanks that He has blessed our mission and ministry each of these years. I am privileges to have been part of the ministry at Concordia since 1986, coming as a graduate of Concordia, Mequon to teach second grade initially.
My interest in pursuing a career in the teaching ministry was encouraged and developed by outstanding educators I encountered in my experience in a Lutheran elementary school. Later, a desire to pursue administrative coursework was furthered by family, friends, colleagues, and the work of the Holy Spirit. In 2002, I completed the School Leadership Development Project, receiving certification for principalship in the Lutheran Church Missouri Synod. In 2004, I accepted the position of principal and at that time also served as part-time third grade teacher.
It is an incredible blessing to work with a very talented, caring group of servants who are committed to bringing students into a closer relationship with their Lord and each other. At Concordia, the students, teachers, and parents work together as a team, both in and out of the classroom. The sense of family and dedicated service that I have been a part of, and which anchors me at Concordia, is one that encourages a love for learning and life-long service. It is my prayer that just as my life was touched by educators committed to preparing God's people, that the staff and I together inspire our students to service in His kingdom.
Teaching Information: Concordia Lutheran School extended a Call to me to serve as the second grade teacher in 1986, as a graduate of Concordia University Wisconsin. The Lord led from one Concordia to another and this has been my home ever since. Many of my 28 years teaching were spent in second grade or third grade, but I have also enjoyed teaching fourth grade, and third and fourth grades combined. At the conclusion of the 2013-14 school year, I moved from the classroom to full time administration.
I have three children, Brenden (Concordia Lutheran School graduate - Class of 2003), Kellen (Concordia Lutheran School graduate - Class of 2007) and Shaylyn (Concordia Lutheran School graduate - Class of 2009). Seeing their faith and friendships grow at Concordia was truly one of life's greatest pleasures. Their time at Concordia most definitely helped shape their future and develop the character and work ethic that they possess as adults. (Yes, I am a proud mom – but recognize that their teachers were significant in contributing to the successes they enjoy today.)
My husband Norman and I enjoy country music, as well as supporting our Milwaukee Brewers, Wisconsin Badgers and Green Packers.
Ms. Karli Luchterhand, Assistant Principal
My history with Concordia has been a long one. It started when I was just three years old and my dad took a call to be pastor at Holy Cross Lutheran Church. I attended Concordia starting in kindergarten (they didn't have a preschool program back then) and was fortunate enough to have Jeannine as my third and fourth grade teacher. I graduated from Racine Lutheran High School and went on to attend the University of Wisconsin – Platteville, majoring in Elementary Education with a minor in Early Childhood.
During my time at Platteville, God blessed me with many opportunities to work in the classroom at Highland Elementary School. I ended up student teaching at Concordia in the fourth grade class under the direction of Mrs. Kosmala. Immediately after graduating in 2006, I took at long term substitute position at Concordia in the 7th grade classroom teaching literature and technology to the upper grades. The following fall, I long term subbed in the fifth grade classroom teaching math to the middle schoolers.
Shortly following my time at Concordia, I took a position at Shepherds College as an academic advisor and instructor. Shepherds College is a post-secondary school for young adults with disabilities. As an academic advisor, I had 8-10 students on my caseload. Because students come from all over the world, they reside at the school, which means that as an advisor, I was responsible for everything from finance to hygiene to behaviors. For my five years at Shepherds, I taught a myriad of classes including math, language arts, study skills, communications, life finance, and trained for life. I believe that each student is created by God on and for a purpose with specific gifts and abilities. This means that each student is either a visual, auditory, written, or kinesthetic learner. I try to have each of those learning styles in the lessons I teach in order to maximize the amount of information a student retains.
I bring all of the knowledge and passion I have for teaching to Concordia. I'm very excited to be at a school where the staff focuses on bringing the Gospel and the love of God to each student. I am proud to be a part of this fantastic team of teachers.
Now for a little about me personally - I enjoy playing the piano, leading worship/directing choir, reading books by Torey Hayden, and cheering for the Packers with my family.
Mrs. Bridget Maricque, Administrative Assistant
My name is Bridget Maricque and I have been married to my husband, Jeremy, since August 2001. God
has also granted me the privilege of being the mother of two beautiful girls. Erin is in 10th
grade at Union
Grove High School and Aubrey is in 6th
grade at Union Grove Elementary School.
I was born and raised in Green Bay, WI and moved to Racine nine years ago after my husband accepted a
job transfer in this area. My relationship with Concordia Lutheran School began in 2015 when my
daughter attended the school for 6th
grade and I volunteered serving lunches. The next year I worked in
Before School Care and also substituted for various positions throughout the school. After filling in this
summer in the office, I was presented with the opportunity of working as the Administrative Assitant. I
look forward to working in this position and using my talents to help students and families in various
ways.
My passions in life include spending time with my family, traveling, cooking, and volunteering whenever
I get the chance.
Mrs. Sharon Boehme, Office Assistant
My name is Sharon Boehme (rhymes with name). After teaching for 20 years in various schools in Michigan and Wisconsin, including St. John's Lutheran and Concordia, I retired from teaching. God again called me to work in the school environment in a different manner. This is my fourth year working as the office assistant at Concordia. I enjoy meeting and seeing children and parents and working with the faculty and staff.
I have been married for 31 years to my awesome husband, John. We have one daughter, a son-in-law and two lively grandchildren. Our rescue cat, Mulligan, keeps us entertained. I enjoy reading, crafts, biking and various activities at my church.
Mrs. Theresa Mierow, Preschool 3 Year Old Teacher
I began working with preschool students as an aide during the 1993-1994 school year. I enrolled in early childhood classes and received my certificate as a preschool teacher. I began teaching in January 1994 at which time I enrolled in classes and received my certificate as Program Director.
My husband Gordie and I have been married for 33 years. We love to camp and spend most of our summer at our camping resort in Plymouth. I also enjoy painting ceramics and teaching country line dancing two nights a week. This is something I have been active in doing for more than twenty five years. I also spend my free time visiting shut-ins in nursing homes an assisted living facilities and enjoy shooting darts.
We have lived in Racine for 33 years. We are members of Living Hope Lutheran Church where I enjoy being part of their puppet ministry and have on occasion helped serve dinners at HALO. We also support the Samaritan Purse Child Program every year through our church.
We have five children (four sons and one daughter) and ten grandchildren. My oldest son, James and family, live in Oshkosh. Our son, Curt and family (2 children), live in Racine. Our son, Clint and family (2 children), recently moved to Racine. Our daughter, Becky and granddaughter and grandson, also live in Racine.
Mrs. Susan Ritacco, Preschool Aide
I was born and grew up in northern Minnesota. I enjoyed snowmobiling and the many lakes. I have a very large extended family and love getting together with them for parties and camping.
I worked many jobs before moving to Racine in 1979 with my 3 children. Some of those jobs were supervising outdoor skating rinks, church custodian, factory work, cooking in a drive-in, and teaching at Head Start where I earned my Early Childhood Certificate from Bemidji Sate College.
I worked for Racine Unified Schools for 28 ½ years in secretarial positions before retiring. I have raised 3 children plus 3 grandchildren (Turner is the youngest).
I say God's plan for me is to be involved with children since I've been raising children for 50 years!
Mrs. Korie Baganz, Pre-Kindergarten 4 Year Old Teacher
Since graduating from Concordia Chicago with a bachelor's degree in Elementary Education and a minor in Art, God has blessed me with several Calls that have provided many different opportunities to serve Him while growing as an educator and continually growing in Faith over the last fifteen years. My first Call was to Trinity Lutheran School in Mequon where I taught 3rd Grade for two years. After that, I accepted a Call to a school that holds a very dear place in my heart: Concordia Lutheran School! I taught both 3rd Grade and Kindergarten here at Concordia for four years from 2006-2010. God then Called me to become the director and preschool teacher at Prince of Peace Early Childhood Center for six years from 2010-2016. God then answered my prayers and a strong desire in my heart to again be in the classroom fulltime where I could spend more time with students, more time shaping minds and teaching about Jesus. He directed me back to Concordia Lutheran School! I was absolutely thrilled!
God has also placed one other special Call on my heart: the Call of adoption! After a long journey, in August of 2015, my amazing son was brought home from China. I happily share this story because adoption showed me God's Hand in this world like never before and I am eternally grateful for the way God shaped my heart during this remarkable journey. Abel, is absolutely my greatest joy!
Some of my other passions include reading, spending time outdoors, and I love to visit my parents who live in Minocqua, Wisconsin and get out on the lake! Spending time with my family is my favorite activity.
Christian education has been a part of my life since preschool and I am so thankful for it! I look forward to all the good things God has planned for all the children, families, and staff each and every school year.
Mrs. Jackie Voss, Pre-Kindergarten Aide

My name is Jackie Voss. I have been married to my husband Steve for twenty-two years and we have been blessed with three wonderful children. Our two boys, David and Ian are attending Racine Lutheran High School (both boys are graduates of CLS). Our youngest child Genevieve is in 8th grade here at Concordia. We love to spend our time as a family going on vacations, boating, fishing, and camping.
I am a graduate of Concordia and Racine Lutheran High School. I understand the importance and value of a Christian Education and love that I can share my faith with our students, parents, and staff. I received my Bachelors of Science degree from the University of Wisconsin Parkside.
I was a substitute teacher with Racine Unified for fifteen years and I have been blessed to work at Concordia the past nine years. In that time, I have served as a substitute teacher, third-grade teacher and for the last four years as an aide for Ms. Baganz.
Mrs. Melissa Eberhardt, Kindergarten Teacher
Hi, my name is Melissa Eberhardt. I am a graduate of Concordia University Wisconsin in Mequon with a degree in Early Childhood Education and a minor in Theater. This is my nineteenth year teaching and my seventeenth year at Concordia. I have taught Kindergarten, 1st grade, and 2nd grade as well as teaching a half day 3rd grade and 5th-6th combination. I strive to create a supportive and fun learning environment where the children aren't afraid to take risks and make mistakes. We work to persevere through our challenges during the school year and celebrate successes both large and small.
My husband Matt and I have been married for seventeen years and have two children. Logan is eleven years old and is in sixth grade this year and Gabriel is nine and is in fourth grade this year. Matt is a web developer for a company in Waukesha. In my "spare" time, I enjoy reading, cheering our boys on during their soccer games, and spending time outside.
Mrs. Danielle Kosterman, Kindergarten Aide

Hi my name is Danielle Kosterman. I have a Bachelor's of Arts degree from the University of Wisconsin- Parkside. I majored in Sociology and minored in Criminal Justice. After graduation I was employed by Children's Hospital in Milwaukee as a social worker. I worked as an Adoption and Foster Care Specialist for four years. I wore many hats and I found this work very rewarding. I am blessed to have assisted in so many children finding permanency.
I met my husband in 2004 and we were married in 2009. We have two children who attend Concordia Lutheran School. When my oldest was one, my husband and I decided I would be a stay at home mom. I was blessed to be home with my children for seven years, and I decided it was time to return to the work force in 2018. I have been blessed to help children achieve permanency, stay home with my children, and now help aide Mrs. Eberhardt with your kindergarteners.
I have enjoyed my children attending Concordia Lutheran School, and I have enjoyed becoming a part of Concordia as well. My children have grown intellectually, as well as spiritually, being a part of Concordia, and I pray that I am able to assist in your child's growth as well.
On a personal note, I love reading, cheering on our children on in soccer, baseball and basketball, and attending concerts.
Miss Lori Bakke, 1st Grade Teacher
Hi! My name is Lori Bakke. I am excited to start my teaching career here at
Concordia and help children grow in their knowledge and faith. I recently
graduated from Concordia University of Wisconsin in Mequon with a bachelor's
degree in Lutheran Elementary Education and minors in Spanish and Theology.
Growing up, I attended a small Lutheran school from Kindergarten to 8 th
grade where I was able to grow in my faith. Now, I am truly looking forward to
teaching here at Concordia Lutheran where I am able to share the Word of God on
a daily basis with my students!
I am engaged to my high school sweetheart and we plan to get married next
year. We are very excited to see what God has planned for the two of us.
In my spare time, I enjoy spending time with my family, camping, walking
my dogs, and reading.
Mrs. Sheryl Villalpando, 1st Grade Aide
On a personal note:
I have lived in Sturtevant since moving from Milwaukee as a child. I've been married to my husband, Mark for 33 years. We are proud parents of our 3 children (Kari - Sturtevant, Alex - Germany, and Meghan - Madison). Kari and her husband Allan have two beautiful children, Markie and Lincoln, who attend Concordia. It has been a blessing to stay home from work the past 5 years and spend time with our grandchildren during the day. My interests include gardening, camping, and cooking.
On a professional note:
I graduated from UW Parkside with a teacher license in Elementary/Middle Education for grades 1-8 and a BA in Geography (2002). Before staying home with my grandchildren and working in the 3K Aftercare at Concordia last spring, I taught at area Catholic schools. Most recently I taught at St. Lucy School in the 2nd grade classroom (2014) and grades 1-3 Reading & Math (2011-2013). I also enjoyed teaching 4th grade students (2005-2011) at St. Sebastian School in Sturtevant before the school closed.
I am excited and look forward to serving the Concordia community and teaching God's children again.
Mrs. Nicole Pekrul, 2nd Grade Aide
My name is Nicole Pekrul and I have been married to my husband Zebulon for almost 14 years. I have three children; Zebulon JR. is in 3rd grade at Union Grove Elementary school and Sara is in 7th grade at Union Grove Elementary school. I also have a soon to be 3-year-old named Ben.
I was born and raised in Sturtevant and moved to Union Grove about 4 years ago. My middle son went to preschool at Concordia when he was 3 years old. I also went to Faith Lutheran as a child. I will be a one-on-one aide in the 2nd grade classroom.
My passions in life include spending time with family and traveling.
Miss Melissa Leon, 2nd Grade Teacher
My name is Melissa Leon. I am entering my 8th year of teaching. Prior to coming to Concordia, I taught 2nd grade at Trinity Lutheran School in Merrill, WI for three years and 3rd/4th grade at St. Paul's West Allis for two years. It's been a joy being back in 2nd grade!
I have been blessed to attend Lutheran schools all my life. I went to grade school at Hales Corners Lutheran and then Martin Luther High School. Continuing with the Lutheran school trend, I went to Concordia University Wisconsin and graduated in 2011 with a double-major in Elementary Education and Lay Ministry/Theology. "Train a child in the way he should go, and when he is old he will not turn from it." Proverbs 22:6
Some of my hobbies include Taekwondo (I am a 1st degree black belt), playing tennis, music (playing the trumpet and piano), church activities, and reading.
I count myself blessed that I have the opportunity to serve at Concordia Lutheran School. To God Be the Glory!
Mrs. Ruth Wieland, 2nd Grade Aide
Hello, my name is Ruth Ann Wieland.  I am delighted to be part of the Concordia School family.
I was born and raised in Kenosha and graduated form Gateway Technical College, Carthage College and Viterbo University.
Prior to coming to Concordia School, I worked in radio broadcasting and taught Spanish in Racine and Kenosha.
Mrs. Rebecca Biesanz, 3rd Grade Teacher
I am a 1995 graduate of Concordia College in Seward, Nebraska. From there I spent my first 7 years of Lutheran teaching at Hope Lutheran in Glendora, California and Faith Lutheran Jr/Sr High in Las Vegas, Nevada. From there I moved closer to family and started teaching in the public schools. I taught for 9 years in Nebraska and Colorado. I met my husband when I was living in Colorado and we moved from there to South Carolina where I taught for another 6 years in public schools and a private pre-school. I am now starting my 3rd year here at Concordia, and it has been a wonderful teaching experience so far with great kids and an excellent faculty and staff.
Most of my free time is spent with my family. My husband and I have two children ages 4 and 7 who keep us busy.
Mrs. Laura Sadowski, 3rd Grade Aide

I have been blessed since August 2017 to work at Concordia as the 3rd grade aide. I was born and raised in Racine and have been married to my husband Daniel for 11 years. We have 3 beautiful children, Madelyn, Dylan and Weston whom all currently attend CLS. They are entering into 6th, 3rd and 1st grade for the 2019/20 school year.
While I enjoyed my time working in the finance world, my heart was pulled to be with my own children. I truly believe everything happens for a reason. In December 2014, I left my manager job at Educators Credit Union to become a stay at home mom. I worked there just short of 15 years, starting as a teller in 1999. After high school, I attended Gateway Technical College pursuing a Supervisory Management degree.
In my free time I love to camp with my family, read and enjoy running every day. We enjoy attending and watching all Wisconsin sports, especially our Green Bay Packers and Milwaukee Brewers. My greatest joy is spending my time on the bleachers cheering on my kids during baseball, softball and basketball season.
Our family has been richly blessed with the teachers and staff here and I am proud to be a part of guiding the lambs of our glorious God.
Mrs. Heidi Frost, 4th Grade Teacher
Heidi has been married to her high school sweetheart, Spencer, for almost FIFTEEN years. Her husband works on the family dairy farm in Waterford with his father and older brother. She has a FOURTEEN-year-old son, named Gus, and her daughter, Maggie, will be ELEVEN in October. Heidi and her family are currently living in Waterford.
She was born in Racine and lived right here in Sturtevant until she was in third grade. She actually attended Concordia through second grade and was baptized at Faith Lutheran Church. When her family moved to Waterford, Heidi attended grade school at North Cape Elementary and graduated from Waterford Union High School. She went on to college at Concordia University Wisconsin and graduated with a bachelor's degree in Lutheran Elementary Education. She minored in Mathematics and Adaptive Education.
Heidi's an active and athletic person. She played on the volleyball team at Concordia University and still plays in recreational leagues today. She also enjoys playing golf, softball, kickball, and most other sports. She loves going to Brewers' games with her friends and family. Some of her other hobbies include shopping, bowling, and camping with friends.
Visit Heidi's classroom at her website: www.mrsfrostsclassroom.weebly.com
Mrs. Julie Arndt, 5th Grade Teacher
My name is Julie Arndt. I graduated from Martin Luther College with a Bachelor's Degree in elementary education. This is my 15th year of teaching, eleven of which were here at Concordia. I've previously also taught preschool, 2nd, 3rd, and 4th grades in Minnesota and Wisconsin. I'm also a pianist and organist.
My husband of 33 years, Richard, and I have a 31 year old son, Jonathan, who attended Concordia for preschool – 3rd grade. I treasure my time now with him and his wife and my grandchildren in South Dakota! I also enjoy relaxing on our patio, biking, fishing, reading and travel.
My hope, as I instruct children, is that they will grow in academic knowledge, and more importantly become more confident and comforted in the knowledge and peace that Jesus saved them, loves them, and has a well-designed plan for their lives.
Miss Kati Luchterhand, 5th Grade Aide
Growing up, my dad was a pastor at Holy Cross and so I attended Concordia until I was in fourth grade. Knowing Christ and understanding Scripture have been a valuable and intricate part of who I am since I was very young. Concordia's purpose in "Bringing Christ and academic excellence to our students for life and forever" is a vision that resonates with me. The Gospel message is one that is not focused simply on life after death; it is a message of hope and life for the present. It is a message that offers grace to every person in any circumstance.
Just prior to starting my current job here at Concordia, I spent six months in Senegal, West Africa with a missionary couple as they began their first oversees mission assignment. I was the live in nanny for their two children while they took French lessons and began to acclimate to life in a new culture. This experience gave me a deeper understanding of myself and my priorities in life. It clarified my perspective and the values that I wish to maintain and instill in those around me. Values such as striving for a heart of compassion that reflects the heart of Christ; nurturing a sense of curiosity and creativity; learning to respond with courtesy and respect, especially when human nature defies such a response; and developing the ability to communicate thoughts and emotions with clarity.
As I begin my third year of working at Concordia, I pray that I would be able to "Preach Christ always and, if necessary, use words" (Francis of Assisi).
Mrs. Sandra Thibodeau, 6th Grade Teacher
My name is Sandra Thibodeau, and I am excited to be a part of the ministry here at Concordia Lutheran School! I am a Wisconsin native, born and raised in Portage. After many years away, I find myself back in my home state.
I traveled extensively as a U.S. Air Force spouse before attending Concordia University - Nebraska. I graduated with a Bachelor's degree in elementary education, and a concentration in English, as well as a Lutheran Teaching Diploma.
I have served the Lord these past 14 years at schools in Lafayette, IN, Austin, TX, and most recently, Menomonee Falls.
I have two adult children - Alexander and Nicole. I enjoy cooking/baking, knitting, reading and being outdoors. I also enjoy spending quiet time at home with my two cats.
I consider it a blessing and a privilege to be able to minister to students, families and co-workers through my position as a teacher. My prayer is for all children to recognize that they are "fearfully and wonderfully made" by our Creator.
Mr. Christopher Drager, 7th Grade Teacher
My wife, Dena and I are blessed to have two grown children one of which is an alumna of Concordia. I previously served four years as Concordia's Athletic Director and have been serving Concordia families since 2016 as the Seventh-grade homeroom teacher. I strive to make my classroom atmosphere interactive and relational so subjects are engaging, practical, more easily learned and even enjoyable. I look forward to equipping your children with useful knowledge, skills, and a love for Christ that allows your children to be successful in high school and productive members of our community.
I graduated from Concordia University St. Paul, Minnesota with a degree in Education, a Major in Family Systems Study and as a certified Director of Christian Education. I have served at Immanuel Lutheran Church and School in St. Charles, Missouri; Zion Lutheran Church and Preschool in Kalamazoo, Michigan and Bethel Lutheran Church and School in Gurnee, Illinois. I look forward to teaching your children and serving with Concordia's staff to integrate the Gospel in all aspects of their faith, educational and developmental growth.
Mr. Stephan Gonzales, 8th Grade Teacher & Athletic Director
In 2007, I graduated from Concordia University-Nebraska with a Middle School teaching degree with an emphasis in Math and Science. While I was there I played on the soccer team and enjoyed hanging out with friends. Since graduating in 2007, I have enjoyed serving the Lord and sharing the Gospel message with my students and earning a Master's Degree in Educational Leadership from the American College of Education in Indiana in 2012. I have been a teacher, coach, athletic director, and principal at a few different schools and have had a chance to teach students starting in kindergarten all the way to eighth grade. I am excited to be a part of Concordia Lutheran school as the 8th grade homeroom teacher, 6-8 Math and Science teacher, and Athletic Director.
At home, I have a wonderful wife who is also a teacher and a wonderful mother to our three kids. My hobbies at the moment include going on walks with the family, playing at the park, and catching up with whatever is on Netflix. I am blessed in many ways and I thank the Lord for all he has given me!
Mrs. Crystal Barron, Middle School Aide
I am Crystal Barron, born and raised in Racine, WI. I have been married to my husband, Omar for 12 years. I have been blessed with three sons, Cesar (23), Vicente (17 and a Senior at Case HS), and Lenox (9 and 3rd grade Concordia student). I have a 1.5 year old grandson, Emmett Mateo. We came to Concordia when Lenox started Kindergarten. I started working in Afterschool Care when Lenox began 1st grade and then have been further blessed with the opportunity to work in middle school as an aide. I love family time and enjoy reading, coloring, horses and horseback riding, the color purple, collecting crosses, church and coffee 😉 We are small local business owners and long- time members of Living Hope Lutheran Church.
Thankful God has placed me where I can work the best through Him!
Mrs. Becky Demuth, Physical Education Teacher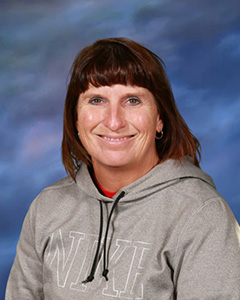 Hello, my name is Becky Demuth and I am the Physical Education Teacher here at Concordia. This will be my 7th year here at Concordia teaching the Concordia students in the gym--I love being a part of the Christian atmosphere and sharing my faith with my students while playing lots of games in the gym!!
I graduated from Racine Lutheran High school in 1983, and then I attended UW-Oshkosh and finished my teaching degree at Purdue University. I have been teaching for over 20+ years and coaching for over 30+ years!
Besides teaching at Concordia, I also teach at Drought Elementary school, K-8th grade Physical Education. I am also the Varsity Volleyball and Varsity Softball Coach at Racine Lutheran High School.  So I spend lots of time in a gym somewhere!!
I have been married for 34 years to my husband, Rob, and have three grownup children,  Amber (30), Tim (28), and Ty(26).  My daughter, Amber, is a pharmacist and is married to Andy Schalk (works for the state of Michigan) living in Lansing, MI,  They have a son, Carter (Born in March 2019)--who I try to visit often and spoil.   My son, Tim, is a Thrivent Financial Consultant here in Racine and is married to Tierney (a nurse at Children's Hospital) and Ty works for Speciality Underwriters in Oak Creek in the Business Department  and will be getting married to Amy (a ESL teacher in Kenosha) in February of 2020.  All of us attended and graduated from Racine Lutheran High School. I live on the other side the "I" in the country in the town of Raymond. So I put a lot of miles on my car--hardest part is for me to remember which school I am going to and where I parked my car at the school.
I do enjoy watching sports, spending time with my family & friends, and photography! I love being a new GRAMMY and love to spoil my grandson rotten anytime I can!
I feel blessed to be a part of the Concordia Family!!
Mrs. Tammy Myers, Speech Language Pathologist
Tammy Myers inspires even the most reading-resistant to love books. A licensed speech pathologist, Myers has pioneered an approach that takes kids on a journey to become strong and confident readers.
Tammy's work began more than 20 years ago with children who had speech and neurological disabilities. To help them learn to communicate and learn, she introduced techniques that engaged their senses, included bright colors, movement, and creativity. She found the children she worked with not only became better communicators, they also became better readers. Reading became a school skill and a strategic life skill. Giving these students with 'special needs' life literacy skills, also opened the doors for acceptance with their peers, inspired teachers to support them through academic challenges, and empowered parents to support their child's personal growth.
Today, Tammy and her team of educators help children of all reading levels at Mrs. Myers' Reading Room in Racine, Wisconsin. The year-round programs take children through activities in four brightly colored rooms, called "Chapters". Using videos, music, iPads, play-dough and even shaving cream (yes, shaving cream!), kids engage completely in the learning experience. By the end of the program, each child has written his or her own book and receives a published copy!
In addition to Mrs. Myers' Reading Room, Tammy works with students with speech and language disorders, coordinates a literacy program through Mrs. Myers' Education Services for the community in cooperation with private schools. She is a graduate of Leadership Racine, an active member of RAMAC, and current past-president of TEMPO Racine. Her speaking engagements include educational presentations for administrators, teachers, and parents to promote success in the classroom through language and literacy. Student success continues to be her motivation and drive. Her passion for student literacy will captivate the heart of any audience.
A graduate of the University of Arkansas for Medical Sciences, Tammy Myers received a Bachelor of Science degree and a Master of Science in Communication Disorders. She is a life long learner striving for knowledge in the complex processes of cognition, psychology, and language. She maintains her Certificate of Clinical Competence through the national American Speech Language and Hearing Association. She continues in private practice speech language therapy in Racine. Tammy lives in Racine, Wisconsin, with her husband and three amazing children. Her youngest daughter, Iana, has Down Syndrome. Working with Concordia toward her success, gave Tammy the platform to help other students. As teachers and administrators navigate the educational and behavioral challenges of students with special needs entering into the private school setting through the Choice and SNSP channels, Tammy has personal and professional experience applying her knowledge toward student success. This experience positioned her as an expert in strategic planning for student success and positioning for the future of our private schools to educate all students of all abilities.
We are blessed to have Tammy on our staff!
Ms. Shannon Lee, Special Education Resource Teacher
I have resided in Union Grove since moving from Illinois with my family in 1997, when my step-father took over ownership of a well drilling company. I graduated from Union Grove Union High School and began studying Early Childhood Education at Gateway Technical College. In 2005, I started my family of three children. While they were young, prior to entering school, I started a state licensed in-home childcare center. The opportunity to stay at home with my children while promoting socialization and development of other children was priceless. In 2008, I unexpectedly lost my mother in an auto related accident that also threatened the life of my then 3-year old daughter. Faith is often shaken during times of tragedy. I believe this life changing experience placed me on my path. After 14 days of unknown outcomes my daughter woke-up, 14 days later she walked out of Children's hospital medication and restriction free. Speech Language, Occupational, and Physical therapy's assisted in her full recovery. God's presence, strength, light, and love has surrounded her, me and my family.
In 2009, I began initiating community youth programs as the Village of Union Grove Park and Recreation Assistant. In 2013, I graduated with my Bachelor of Science in Elementary Education with an emphasis in Early Childhood from Grand Canyon University. 2014, provided the opportunity to work on the development and implementation of an Early Childhood curriculum. I continued to gain experience through substitute teaching opportunities throughout western Racine County. I was led to discover the power in designing individualized active instruction in 2015, as a curriculum developer at Mrs. Myers' Reading Room. Providing supplemental education support in Racine County including here at Concordia Lutheran, Sturtevant.
My passion for specialized instruction, prayer, and blessings provided an opportunity in 2016 to serve the students, families, and educators at Concordia Lutheran School as the Special Education Resource teacher. In 2018, I have obtained my Masters of Education in Special Education from Concordia University-Portland.
I spend as much time as possible with my family, we are close and active. I find joy in repurposing; that is turning something old and forgotten into something unique and purposeful. One man's trash is another man's treasure. In the summers I enjoy live music, gardening, and camping as often as possible.
Mrs. Darlene Fabio, Before School Care
I was born on the east coast, got married and move to Wisconsin in 1976. Wisconsin has become my home. I have two children and three grandchildren. My youngest grandchild is a student here. I started volunteering at Concordia Lutheran the first year he started going here.
I enjoy being part of this school. When I retired from St. Mary's, after working there for 22 years, I came to work here in the childcare. I love taking care of children and teaching them the Word of God. I have been an Awna leader in my church for 18 years. Teaching children to love Jesus is my calling. All children need to know about Him.
Mrs. Amanda McCray, Before & After School Care
I spent 16 years in Business specializing in Compensation, Benefits, and Human Resources with an emphasis on Employee Relations. I left Business in 2018 as God called me to pursue a career in the Social Sciences. Last year I started at Concordia as the Before and After School Care Supervisor and love it.
I am currently a full-time student at UW Parkside majoring in Psychology and Sociology with a minor in Criminal Justice and a concentration in Ethnic Studies. I hope to become a Clinical Therapist within the Juvenal Corrections System when I graduate. God seems to have plans I don't know about, so the end goal might not be what I envision. Don't set your plans in stone because God can come along at any time and change them.
My husband and I have been married for 12 years. I moved to Racine from Milwaukee in 2006 and have lived here since. We have three kiddos; Michael is in 6th grade, Audrie is in 4th, and JoAnne is in 4k. This is my sixth year as a Concordia mom, and I could not be happier about the education and love my children receive here. We enjoy anything that is outside as well as doing conservation work. This summer, we put in a butterfly garden and started raising Monarchs. I am very passionate about the environment and am doing my best to teach my tiny humans how to care for our planet.
I strongly believe that it is an individual responsibility to be kind, loving, and mindful of the world we are leaving behind to our children. Others often see what we are doing and follow that example, so be a light. My all-time favorite Bible verse is Philippians 4:13, NIV: "I can do all this through him who gives me strength."
Mrs. Sharon Joyce, After School Care
I taught Sunday School for 6 years. I started working for Racine Unified at Garfield Early Childhood for 2 years as a Special Education assistant. After that at I was also at Schulte Elementary working in the Title 1 Program for 7 years. I made my way back to Special Ed. L.D. for 7 more years. When students were assigned to regular classrooms I worked with them there but also went wherever I was needed. I did many different jobs but enjoyed them all! Well... not so much wearing the secretary hat! I retired from R.U.S.D. last December after 24 years. Speaking of Concordia… what a blessing that children can be taught in school the love of Jesus. I did miss the children, here I am!
Mrs. Jennifer Lyons, Lunch Service
My name is Jennifer Lyons. I have been helping with the lunch service for 5 years now. I am married
with two children – ages 16 and 10. We currently own 3 parrots, 2 macaws and an Eclectus.
We try to give our kids unique experiences. We enjoy concerts and music festivals. My husband and I are
skydivers. My youngest, Ivy, is very much involved. She spends most of her summer at the Drop Zone.
We do take her to I-fly so she, too, can "skydive".
I am very blessed to be a part of the Concordia family. It is an AMAZING SCHOOL.
Mrs. Kerri Riker, Lunch Service & Cafeteria Coordinator
I'm Kerri Riker, I am married with 2 boys, Robby and Jack. I am the Lunch Coordinator here at Concordia Lutheran School (CLS). I initially was a volunteer helping out around the school which eventually turned into a permanent position. I have always enjoyed being helpful, being the Lunch Coordinator allows me to be involved in the school. I really enjoy the role I work in as it allows me to be seen all around the school, interact with everyone and provide a really awesome lunch service that everyone can enjoy.
Reach Us
Do you want to enroll your child in the best private school in Sturtevant, WI? Look no further than Concordia Lutheran School. Call us to learn more about our academic programs, (http://www.concordialutheranschool.net/about-our-school)